My name is Tamara De Zotti, I am an Italian mother of two children and certified doula.
I arrived in Norway 7 months pregnant and with a 1 year old child. At that time I did not speak Norwegian and only a little English. I confess that this was a very difficult time in my life. Apart from my husband's compassionate support, I had absolutely no one here and spent my days locked up at home, feeling lonely and afraid.
However, my daughter's birth at Ullevål ABC, here in Oslo was a totally illuminating experience that made me realize how much I missed out on during my son's birth.
You see, my son had been taken away just after birth to be washed, weighed and dressed, but my daughter was instantly placed against my breast. The memory of the smell of my newborn daughter is something that I still remember after many years. It breaks my heart that I can't say the same thing about my son.
Like me, many women have had their newborn child taken from them too quickly, which affects the future of their relationship with their child.
This has a tremendous ripple out effect as it impacts how that child functions in relationships as they grow into adulthood. Which affects how that adult functions in society – which affects how they treat their own children.
I understand how a fully conscious and informed birth can make a huge difference throughout the life of the child, the mother, the family, and humanity!
I emerged strengthened by my hard experience and became a Doula to give other women the opportunity to reclaim their power, know their options and rights, and support them in their choices, whatever they are.
I've been counseling women during pregnancy and after birth since 2008 and wrote a book on the sleep of babies, Dormire bene per crescere felici. The book is only in Italian, but you can benefit from my successful "Sleep Well" workshops given in English, and Italian.

My doula work is so exceptional because I take a completely holistic approach that involves physical, emotional, energetic, and spiritual support. For this reason, you will find practices like Reiki and Womb Healing among my many other certifications.
Read more about My Work Philosophy

I feel passionate about helping women reclaim their natural power of birth and I look forward to helping you along your pregnancy and birth journey.
Contact me today and we'll schedule a free consultation for you.
My Education
& Qualifications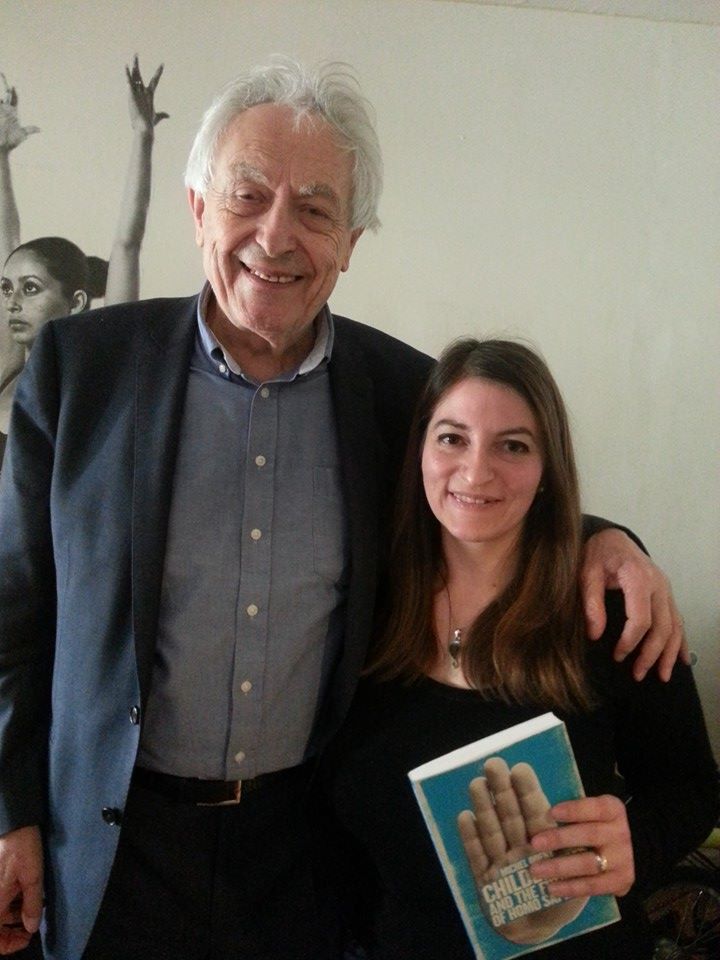 With Michel Odent in 2014
I am a trauma-informed Certified Birth Doula (CBD (CBI)), Postpartum Doula – 2015
Spinning Babies workshop – 2016
Rebozo certification with Gena Kirby – 2017
Certified Butterfly Touch Massage – 2017
Usui Reiki Ryoho, Reiki Master and teacher – 2017
Spiritual Shamanic Initiation The Munay Ki Certified – 2017
Childbirth Educator and Lactation Consultant in training
Hypnobirthing Program – 2018
Nutritional advisor (Nutritional advisor – 2018 – Professional Diploma in fitness and weightloss – 2019)
Certified Pregnancy Massage – 2019
Certified Moon Mother Level 2 (Womb Blessing – Womb Healing – Soul Healing) – 2019
Shamanic journeying ceremony and ritual (Sharon Ramel and Sandra Ingerman) – 2018/2019
Holistic Wellness Health Coach certification training – 2019
The Healing Trauma course by Peter Levine – 2019
Releasing the Grip of Fear course by Tara Brach – 2019
Deep Body Practitioner in the Deep Body Model® (Stefana Serafina – Deep Body Institute) – 2018/2023
Microbiome baby, teacher – 2020
Certified Teacher of The Happy Human Formula™ Self Centering System (Elizabeth Menzel) – 2020/2021
Womb Keeper (13th Rite of the Munay Ki (Marcela Lobos lineage) – 2021

The Shamans Way Of Healing (Villoldo) – 2021
Intensive Training Certification on Rebozo Medicine (Angelina Martinez Miranda) – 2021
Soul Realignment® Advanced Practitioner (2022)
I speak fluent English and Italian, and intermediate level of Norwegian (B1)
I live in Oslo and take assignments in and around Oslo up to about 40 km away (Oslo, Bærum, Akershus, Drammen). The classes, packages and energy sessions that I offer are available both in person and virtually.
Let's talk about how I can help you.
The first meeting is free and there is no obligation.
tamara[at]naturalpowerofbirth.com